A MODERNIST BUILDING



The building at Liebiggasse 9 was built in 1934 and designed by the architect Herbert Eichholzer in collaboration with Viktor Badl. Within just six months the five-story residential building was finished. Today, the six-story building captivates viewers with its simplicity and clean lines.

Completely

restored in 2010 to its original state the building is a beautiful showcase of a successful integration of modern day efficiency.
To show the buildings architectural qualities and to display real estate opportunities a digital web presence was needed. xSITE was asked to create a website to highlight the architect, architectural details and rental options. We established a site for quick read use with the option of an in depth information source about the time period and the building. Divided into two main sections we focus on the art historian importance of the building and the commercial aspect of renting units. By using the 1930s as inspiration, we designed a logo and applied a font and color scheme for the site.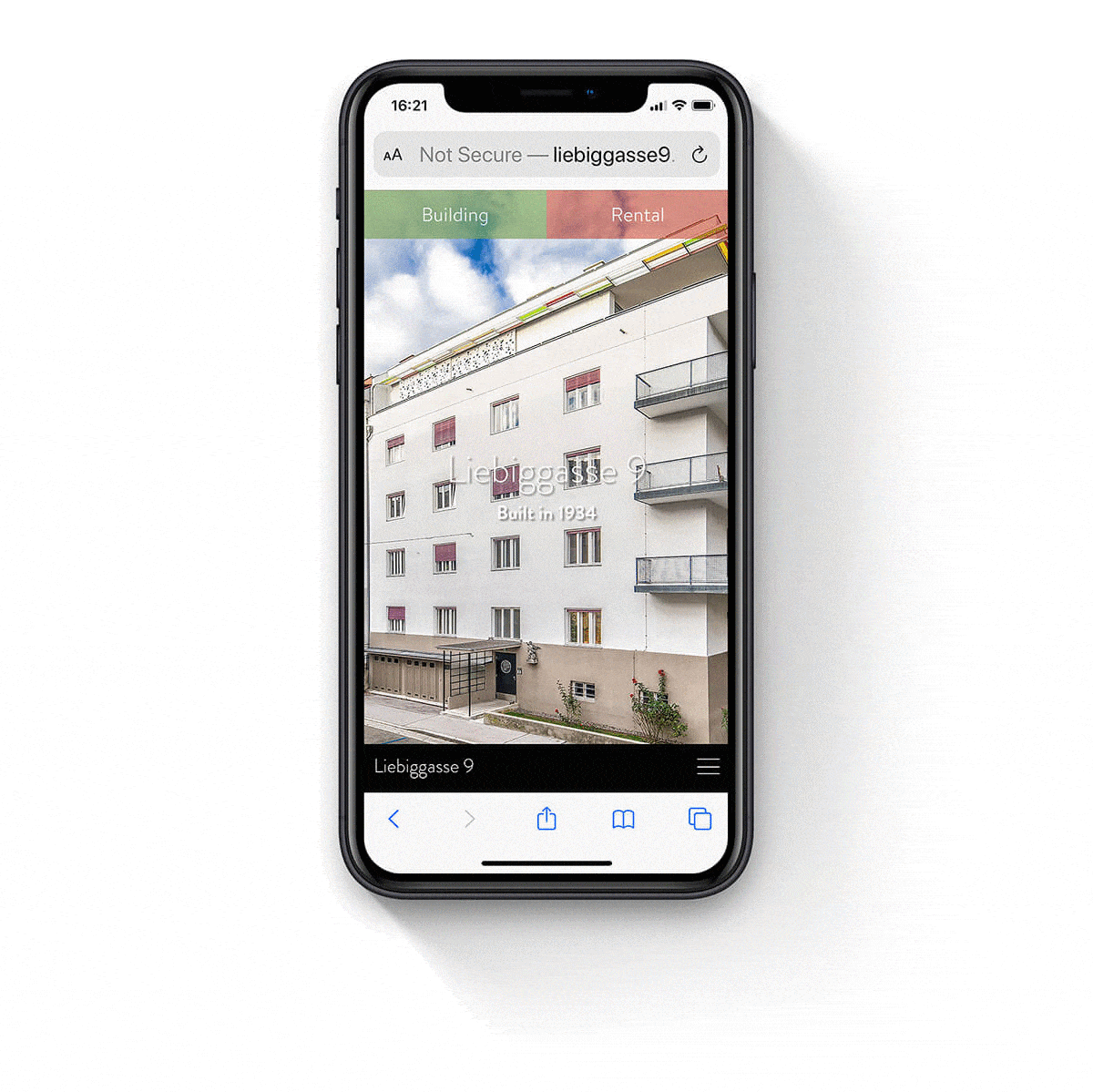 Herbert Eichholzer was born on 21 January 1903 in Graz, Austria, where he also studied architecture, graduating in 1928. While studying, he traveled around the world, honing his political awareness and later working as a trainee with Le Corbusier in Paris. Impressed with this experience, he began to make a name for himself as a modernist architect in Austria. Some of his achievements, realized in less than ten years, are the most interesting buildings that were made in Austria in the interwar period. His understanding of building, housing and living as an integral whole was inseparably linked to social criticism and later his commitment against the Fascist regimes. Eichholzer was arrested in 1941 for his resistance against the Nazis. After being sentenced for "preparing treason", he was executed in Vienna on 7 January 1943 at the age of thirty-nine.

Between avant-garde and social responsibility, political agitation and bohemian, cosmopolitanism and regional tightness moved Eichholzer's short-lived career. As one of most progressive architect figures in Austria, his work was just beginning to develop. He was not an architect who proclaimed pure aesthetics, but an architectural approach to holistic vision. "Despite his convinced modernity, Eichholzer was not one of those architects who advocated the total break with the traditional, in order to be able to develop an architecture corresponding to their time. On the contrary, tradition was very important to him, he felt deeply rooted in it." The interweaving of opposing positions in particular is an exciting element in Eichholzer's work.
After the war, he was soon forgotten and most of his buildings have now been adapted beyond recognition or destroyed outright. 
The four-storey residential building Liebiggasse 9 was planned by Austrian architect Herbert Eichholzer and built in 1934. The modern architecture in the "International Style" is one of the few existing examples in Graz, Austria a

nd achieved registered historical landmark status in 2010. 
The two-sided, 4:4-axis building is given a striking treatment of the corner zone by the protruding concrete slabs of the balconies, which are led around the corner of the house. The "handwriting" of the architect can be seen above all at the entrance, which responds to the special situation in front of these houses through the supported canopy and the glass wall protruding into the street space.
For the website we created an interactive building user experience. Information call-outs on the pictured building are clickable and can be activated to reveal detailed information about interesting building features. By clicking on a call-out button the user is zo

oming into this specific section of the building. Additional information and images can be shown by using the sites navigation system.
Working in an architectural gem. The Liebiggasse 9 building was constructed as a multi-party apartment building in 1934 and its modernist architecture makes it a unique "architectural artwork" in Graz. With this building the highest level of quality is combined with modern conveniences.
All units have been completely refurbished, rewired, equipped with lighting, and are partly furnished.
For the website we created a CMS back-end to show different space layouts upon availability. Detailed descriptions with individual floor plans and other documentation to download give the prospective renter a comprehensive idea about renting object.