ART OF THE AMERICAS



Since its inception in 1995,

TRANS>

has located itself in a transitional space and through the mediums of art and culture, has designed new cartographies, subverted rigid codes and encourages unexpected dialogues.
TRANS>

believes in a tradition of multiple views and constant change. It responds to the immediate creative needs of artists and urgencies of the times.
Among

TRANS>

projects are the journal

TRANS>

arts.cultures.media, Don't Trust Anyone over Thirty: Entertainment by Dan Graham, Tony Oursler and Rodney Graham, a 60 min. live rock-opera puppet concert and Smile Without a Cat: A Celebration of Anne Lee's Vanishing, a fire works project by Pierre Huyghe and Philippe Parreno.
TRANS>

arts.cultures.media was at the forefront of the internet age and was published in printed format and digitally as a website. The journal was written in multiple languages of the Americas. Depending on the source of the article it was written in the language of origins with a translation in English or Spanish. An important feature for the design of the publication, the need to design with two languages per article was an inspiration for creative solutions. Printed in a variable of two colors divided by signatures, with monot

one and duotone images on uncoated paper. The publications center piece was dedicated to the Artist's Multiple and printed in 4/c on coated paper. Depending on the artist, this main feature of the publication had different printing techniques in various varnishes, di-cut, fold-out or even printing on chewing gum. The Artist's Multiple was also the inspiration to the cover of each journal.



For the logo

TRANS>

we used a dynamic logotype, changing by application. Each journal cover had their own version.
Published twice a year

, every issue had a unique identity with different type, image and cover treatments.

The journal typography grid had a multitude of options to design within different languages. The result was a lively interacting reading process focused on individual art articles. Using only two PMS colors the issue color scheme was coordinated per signature. Cover and Artist's Multiple pages were printed in 4/c on different paper and had special printing techniques.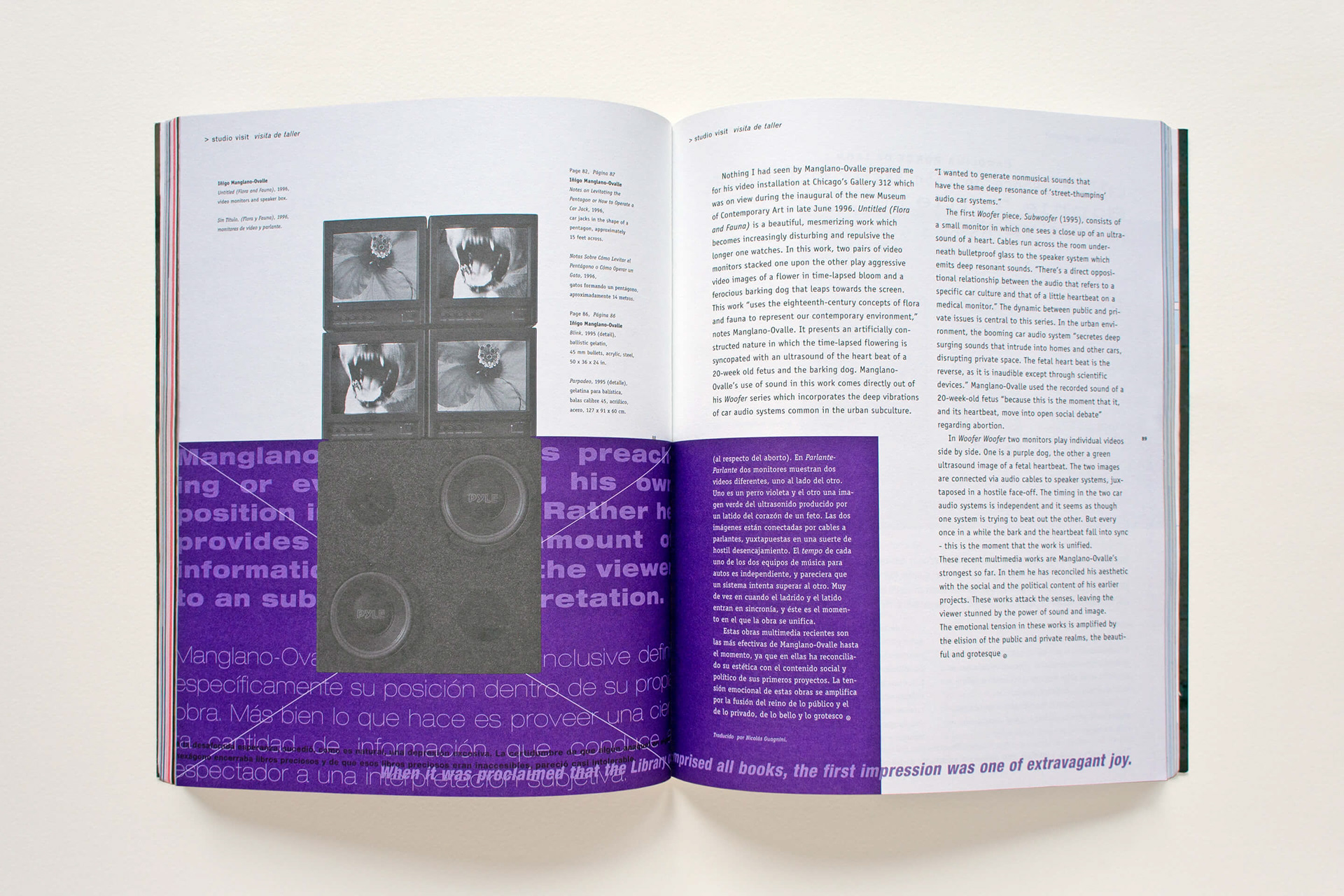 Each issue of

TRANS>

had their own unique Artist's Multiple. One of the most challenging was in collaboration with the artist Paul McCarthy for

TRANS>

8

.

TRANS gum is an edible image of Santa Claus individually hand silk-screened onto an eight-by-ten inch piece of chewing gum. The image is one of a special series of drawings by Paul McCarthy made specifically for the cover of

TRANS>

8. By transforming the traditionally sanctified icon of a happy Santa Claus into a demented, sexual image, Paul McCarthy examines the distressed state of the human psyche. Translated for the first time onto a pink, sugary, odoriferous, oversized stick of bubble gum, the

TRANS>

cover continues to challenge boundaries.
To keep the art piece in place the publication was shrink wrapped and branded with a

TRANS>

issue 8 banderole.
Another example was a collaboration with the artist Jorge Pardo for

TRANS>

6. Here different di-cut variations were applied to visualize the Artist's Multiple.